mood:average boredom
weather:amazing it's not raining
daily Q's and A's: Q:Do you think you're hot?
A:Nope it's not that hot now in malaysia soo let's just consider im a semi-hotty
HI everyone!!
it's me again AMIIIIIIII
YES!!!it's moi 3rd BLOGGGGGGGG
guess WHAT?i forgot my 2nd blog's password AND USERNAME
yeap and so i make a new blog
OOPS moi did it again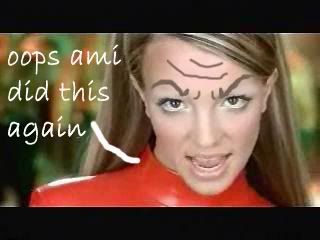 britney MADDD
rawrrrr!!!!
love,
ami